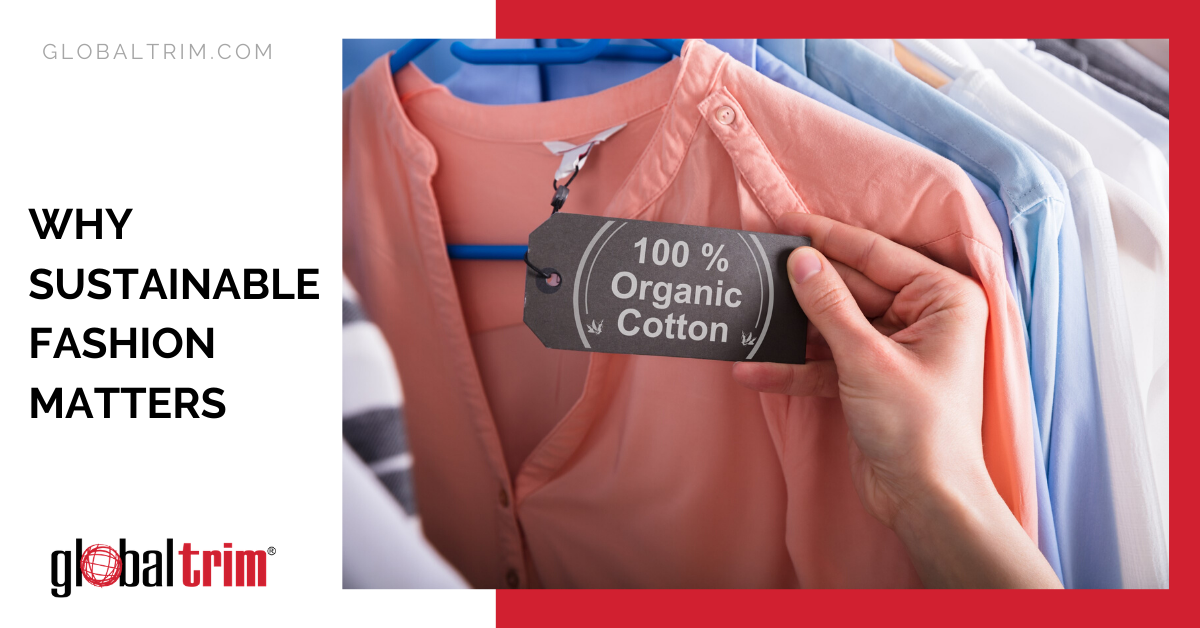 11 Dec

Why Sustainable Fashion Matters

We live in a day and age where sustainability is growing in importance by the day. More and more industries are becoming sustainable-savvy and are investing millions, even billions of dollars in becoming more environmentally-friendly. The fashion industry is no exception.
The Sustainability Trend in the Fashion Industry
In the last three years alone, the hashtag "sustainablefashion" has gone off the charts on Pinterest, Twitter, and Instagram. This hashtag alone is used by five times more people than three years ago. Other similar hashtags are widely spread in the blogosphere. Many experts said that it was about time for the fashion industry to "wake up" to the new sustainable future that lies ahead of us.
More and more influencers, fashion experts, and top fashion brands are becoming part of the eco-friendly movement to reduce greenhouse gases and support long-term sustainability.
According to many voices, this trend is going to shape future fashion trends. For instance, the upcoming Spring 2020 fashion trends will include a wide range of clothes made of recycled or organic materials. Natural fibers, recycled nylon, linens, and naturally dyed clothes will soon become the norm.
Companies are Hopping On the Sustainability Train
Experts agree that the fashion industry will become more competitive and more open to new ideas. New players in the market will be able to innovate and bring their ideas to the table. For example, Amour Vert, a US-based company that has recently hit the market, has big plans for our planet. They want to develop a better future for the next generations, so they are offering clothes made 100% from Mulberry silk, Tencel, ethical wool, or organic cotton.
On the other hand, the well-renowned Zara is going completely towards a more sustainable future, planning to radically cut down plastic use and pollution. Zara directors recently revealed that they want to have all their clothes made of organic and recycled materials by 2025.
New Trends in the Fashion Industry
We can notice three main trends that will dominate Spring 2020 fashion shows and continue to shape the future of the fashion industry, while keeping sustainability at the forefront.
1. Influencers Wield Their Powers to Make Change
While the fashion industry was a "push" type of industry that dictated the trends in the past, now it has morphed into a "pull" industry that calls for fashion voices to dictate trends. Influencers are now a force to be reckoned with because they are the ones setting trends.
Each influencer has millions of people whom they represent, so they are known as "fashion ambassadors." Fashion companies and manufacturers that fail to listen to their voices seem to be losing hard in the long run.
Most influencers promote strongly for a sustainable future, so the companies are tuning to their needs and creating clothes that are environmentally-safe.
2. Consumers are Key
Another important trend relates to the needs of consumers. Connecting with consumers is what enables certain brands to stay out of the crowd and get an edge over the competition. Of course, many well-established companies are using influencers in order to conduct market research and discover what it is that their customers actually want.
Fashion companies are striving to tailor their products to the exact needs of modern consumers and to respond to the growing demand for organic, environmentally-conscious apparel. Using the power of technology, fashion companies can now analyze social media feeds in order to detect sudden shifts in behavior and to better respond to the needs of consumers.
To top it all, fashion companies are trying to predict demand using advanced tools and to streamline the manufacturing and distribution processes in order to reduce carbon footprint.
3. Marketing and PR are Evolving
Ultimately, fashion companies are beginning to dive deeper into the power of marketing and PR to stay in touch with their customers and keep them up to date with all the changes they make. According to recent statistics, over 8 in 10 millennials expect fashion companies to commit to corporate sustainability, and 75% of millennials and Gen Zers are agreeable to shelling out extra to pay for sustainable fashion.
Sustainable fashion is more than a trend, rather a movement toward producing garments in a manner that is ecologically friendly and socially responsible.
Our team at Global Trim has mastered the art of creating unique trim pieces for clients all over the world. Not only do we provide global garment manufacturers with exceptional trim products, we back our products with service that is second to none in the industry. Companies all over the world trust Global Trim.  Contact us to ask about products to support your efforts at sustainability.