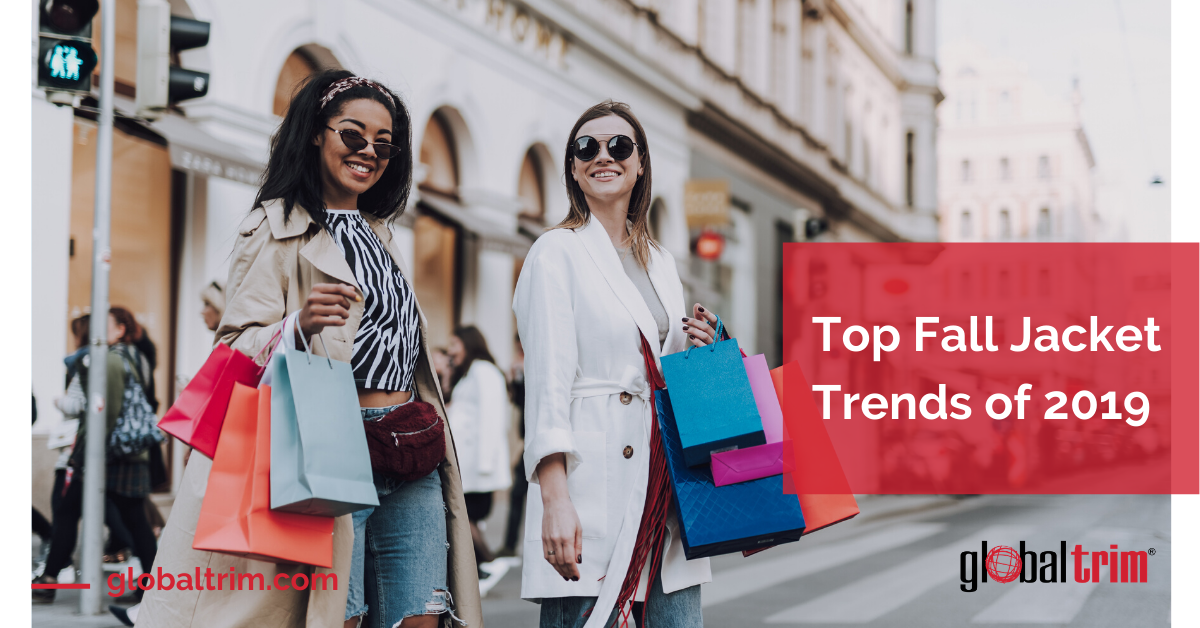 21 Nov

Top Fall Jacket Trends of 2019

Summer is long gone, and with it, it took away our sleeveless sundresses, strappy sandals, and casual summer skirts we won't catch a glimpse of again until 2020. Now that fall is here in full splendor, fashionistas everywhere are embracing the unique art of layering. And this winter, the "piece de resistance" is an on-trend jacket.

Below, are the top six fall jacket trends you'll see everywhere fall and winter, 2019. Embrace one of them or more and create your own chic style.
1. The Trench Coat
This is a classic coat that is perfect for the long fall season. You can buy it in variety of colors, sizes, and styles. The 2019 fall trench coat is longer, more structured and somewhat chicer than trench coats of the past. You can combine it with boots, shoes, or even sneakers. However, try to keep it in neutral, especially if you have patterned trousers and shirt beneath.
2. The Leather Blazer
Leather is making its own comeback this fall. This fashion item from the 80s is calling out to you in a soft, purring voice. You can choose from vegan leather and full leather. However, note that if you would like to wear your leather blazer through the chilly temperatures of late fall, select a style that is fully lined.
3. The Belted Jacket
Belted jackets are worth their weight in gold for their ability to create a slimming silhouette by placing emphasis on your unique waistline. This type of fall jacket looks quite amazing on Victoria Beckman and we're quite sure it will look amazing on you too. You can either embrace the most popular pattern this fall choosing dark colors, go full white, or choose a classic belted blazer.
4. Shearling-Lined Jacket
Of course, if you need something to keep you warm during late November and beginning of December, an oversized shearling-lined jacket is always a good idea. For maximum contrast, pair this item with a floral feminine dress or blue jeans.
Out of all fall jacket trends, the shearling-lined jacket may be least suitable for work, if you wear traditional corporate attire to the office every day. Nevertheless, this trendy jacket is perfect for going out in the city with your friends or spending the day shopping at the mall.
You can choose between and black and white cool shearling-lined jackets, perfect for mild fall, or a heavy jacket that will keep you cozy well into late fall. A denim vest with a shearling collar is a fun alternative for sunny fall days.
5. Animal Print Jacket
Another hot jacket trend this fall is exotic animal print. Snakeskin and leopard reign supreme, making you look luxurious and extremely stylish. You can also wear a snakeskin coat as a dress, spiking the interest of everyone at the party.
6. The Leather Jacket
Compared to the leather blazer, which is more stylish and elegant, the leather jacket is a great choice for every single fall and spring and is not going out of style anytime soon. Instead, it has its own comeback every new season.
Fall 2019 is no different. Just like any other fall or spring before, the leather jacket is considered the MVP of all jackets. However, what's different from other seasons is that this time, the jacket is getting the shape and style of the 80s. So this season's leather jacket is coming in oversized and with strong shoulders.
No matter the style you have, a leather jacket can showcase your true personality. Whether you have a classic or a more edgy style, a leather motorcycle jacket is a fun choice. You can also go with an oversized leather bomber for its boyish appeal and to show other people you mean business.
Of course, if you prefer a leather puffer, it will keep you looking chic and feeling warm through the late fall and early winter.
Fall Jacket Trends 2019
These are the top fall jacket trends available in 2019. To learn more about the fall 2019 trends on the cutting edge of fashion, and how our team can help you create custom high-quality garments, contact us at Global Trim.
Since 1995, our team at Global Trim has mastered the art of creating unique trim pieces for clients all over the world. Not only do we provide global garment manufacturers with exceptional trim products, we back our products with service that is second to none in the industry. Companies all over the world trust Global Trim, we know you will too.