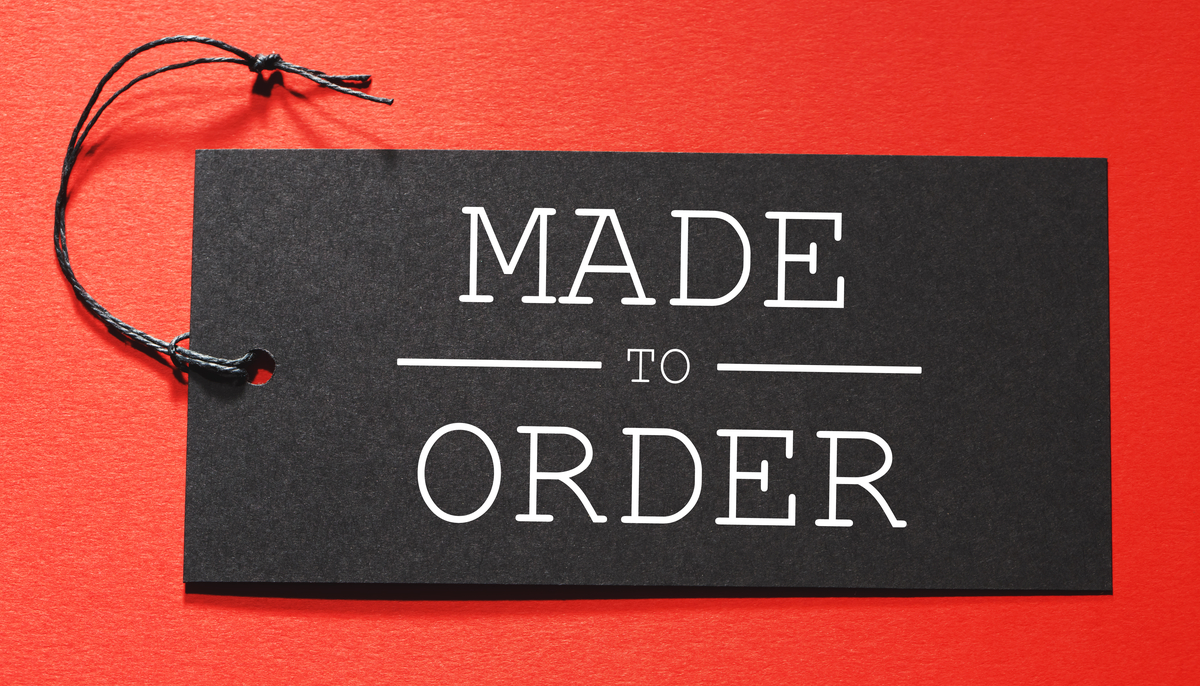 30 Jul

How Brands are Satisfying the Demand for Personalized Apparel

The business of personalized apparel is booming. Long gone are the days in which consumers of fashion have to bow down to mass-produced standard sizing.

There's been a real turning point in recent years within the apparel manufacturing industry. The personalization and customization of clothing has become a rapidly growing area of interest, and mass personalization in particular has become a red-hot affair. A survey by Sourcing Journal revealed that 31% of apparel industry change-makers will be moving towards personalized apparel within just five years' time.
From Color Palettes To Perfect Fits – How The Apparel Industry Is Changing
How can companies ensure the profitable production of mass clothing designs catered to individual tastes, sizes, and preferences – to meet with surging consumer demand? The transformation is likely to require the overhaul of current business models as well as the testing of innovative technological advances, both of which may introduce some interesting challenges across the industry.
Footwear revolutionaries such as Nike were early introducers to customized apparel technology. In the late 90s, Nike provided consumers a platform to personalize their sneakers with their stunning range of colors, patterns, and materials on offer. Once the custom design was created, the production process was initiated at an individualized scale. Having used this pioneering technology, NikeiD, now for twenty years, the company reports that the tool brings in massive revenue to this day.
At present, the 'made to measure' system is the most advanced form of mass personalization, where apparel companies offer clothing customized to an individual's body shape and size. Done right, it produces perfectly fitted clothing with millions of customized designs available at the customer's fingertips.
Technological Advances In Personalized Apparel
How is this achieved at a mass scale? One popular way is via the use of mobile technology, which enables 3D scanning of the body.
For example, RedThread, a women's apparel company, invites potential customers to take a quiz and scan their body to identify their measurement points. Within just a week, the customized clothing – currently the line offers jackets, leg pants, and T-shirts – is delivered to his or her doorstep.
Last year, H&M invested $40 million in a men's apparel startup Thread , which uses Artificial Intelligence (AI) to offer custom-made fits. The service took off, and now the company caters to over a million satisfied customers.
From a slightly different angle, companies such as My Size have opted to advance technologies in self-measuring. The My Size app allows anyone to self-measure simply by using their phone in lieu of a tape measure. Their expert algorithm then scans existing apparel sizes so that customers can discover which sizes would provide them with the absolute perfect fit.
Yet another apparel start-up, Bespokino, has also adopted revolutionary measuring techniques in order to provide personalized shirts and blouses. Customers use their innovative measuring tool which comes in the form of a physical shirt they can wear and adjust according to their shape and size. The measurements are then uploaded onto their site and the design can be customized to perfection using their downloadable app.
Personalized Apparel Is Still A Thread Away From Perfection 
There's still a long road ahead for fashion companies before they become fully-fledged customized apparel machines, though.
One is from a tech standpoint. Most of the technology involved is ever-evolving and far from its final stages. RedThread, for instance, admits that their algorithm is not 100% automated at this point.
From the production side, important measures need to be taken to ensure customization remains feasible and cost-effective. The Sourcing Journal survey reported that close to 50% of apparel industry participants are choosing small production runs and factories that are aligned towards customized production needs. However, factories that are happy to adapt towards personalized production are few and far between, as they rely on high volume orders to survive.
Speed of production can also present a unique challenge. While there are some obvious success stories, other companies struggle to realize orders at the pace that customers want. Once waiting time hits the limit of just 1-2 weeks, customers' enthusiasm for the product can dwindle.
Creating a reliable and user-friendly interface that supports mass personalization can be equally problematic. Difficulties in navigating choices, measurement errors from the customer itself, and the possibility of ending up with an 'ugly' customized design are problems apparel companies will have to overcome. Currently, some businesses are side-lining these issues by incorporating a human touch to their customer experience. The Flextech Suit crafted by Sene, a women's apparel company in Los Angeles, uses video consultations and user-inputted quizzes to deduce precise measurements and eliminate possible errors.
Mass personalization does offer some unique commercial advantages though – the most prominent one being that customers will pay for the goods prior to production, which effectively brings the potential risk of stagnant inventory down to zero.
Having said that, total mass personalization is still probably a decade away from becoming completely mainstream. But with consumers' demands bending towards the personalization of practically everything they buy, it is up to the apparel industry to rise up to that challenge.
Global Trim partners with clients across the globe to provide unique trim pieces to their custom garments, backed by service that is second to none in the industry. Our state-of-the-art inventory programs allow for quick turn around needs and we proactively work with our clients to build production schedules and meet deliverables. Contact us to learn more about our products and how we can help you customize your apparel.