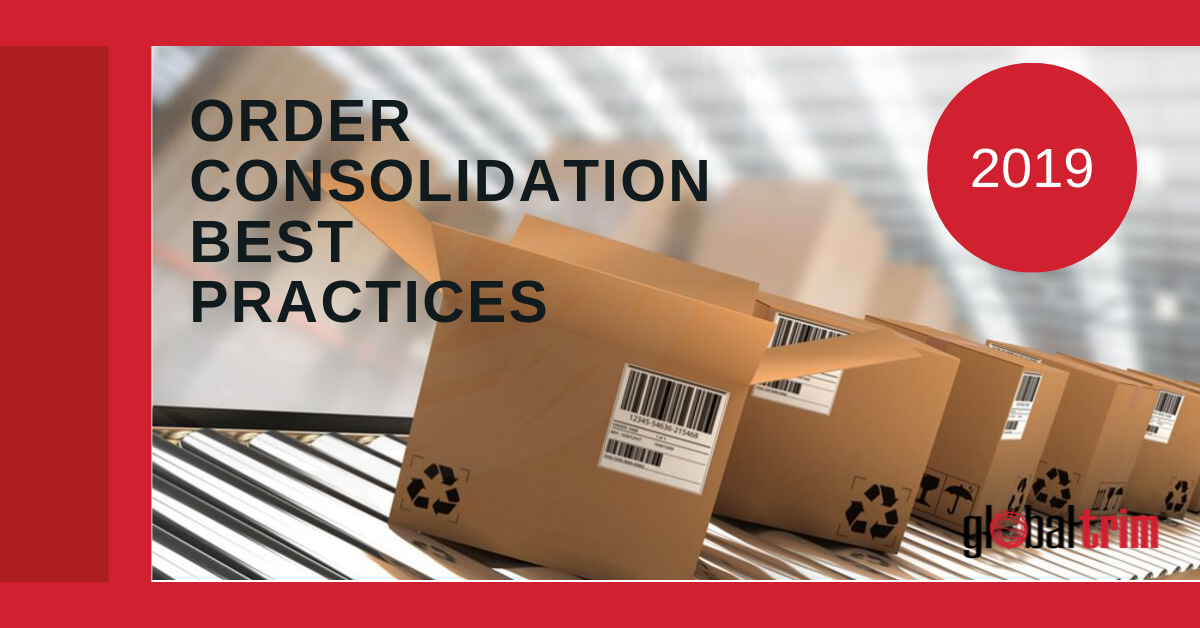 25 Sep

Best Practices for Order Consolidation in 2019

Consolidating purchase orders is a very important problem that distribution companies have to fix in 2019 and in the near future. Many times, the items sent via UPS or other distribution companies are wrongly packaged in too large boxes, and they arrive at the consumers in poor shape. Many customers shopping online have found that certain products come to them crumpled in small boxes, while others swim in large boxes. Thus, order consolidation becomes a must to reduce packaging time, save money on transportation, and also offer a better experience to the end customer.

More and more companies are now creating their own order consolidation best practices guidelines. They are coming to discover the multiple benefits of order consolidation, which include but are not limited to reducing the number of carton labels and packing tape used, decreasing handling costs, diminishing the number of trailers used to ship the same amount of freight, and getting more units per carton.
Using a Better Way to Consolidate Purchases
In a recent meeting, a group of retail industry corporations collaborated in order to find better ways to consolidate orders and reduce wastage. Also known as the Apparel and General Merchandise Initiative, this initiative offers step by step recommendations for consolidating the purchase orders from various departments. More practically, they are offering ideas on how to put multiple orders in the same carton in order to improve sustainability and reduce handling and shipping costs.
This group of corporations, which includes retailers, brand owners, and solution providers, have managed to create a comprehensive plan and guidelines whose end result is to better meet the needs of today's savvy consumers and also to increase the supply chain agility. They have set up certain common practices for order consolidation in order to enable brands to use the same methods. Moreover, they have created an environment in which companies can share best practices between them.
These guidelines offer recommendations on consolidating purchase orders (POs) and sharing Advanced Ship Notices (ASNs). This enables companies to leverage consistency across all channels and use the same metrics and definitions related to order consolidation.
Order Consolidation Benefits Everyone
Once these practices go mainstream and companies manage to successful implement order consolidation into their processes, the retail industry will not be the only benefactor. Instead, all the players involved in the distribution process get to win.
While retailers and brands get to benefit from cost savings and gain the appreciation of the end customers, consumers enjoy quicker deliveries and receive their products in a safer environment. In other words, they experience less damaged products and get to enjoy a quicker delivery of their favorite products. They can also choose a wider variety of delivery channels, including vans, drones, planes, or cargo ships.
Order consolidation allows retailers and distributors to realize supply chain efficiencies, cut down their costs and also support their sustainability goals and corporate objectives. Ultimately, streamlining the ordering process allows companies to contribute towards a cleaner environment and reduce the environmental impact.
As the company manages to ship multiple orders in the same carton or box, they are using less packaging materials and less tape. Thus, they contribute to saving the environment by reducing the number of air pillows, foam peanuts, carton boxes, and plastic tape they use. Additionally, using less boxes translates into a better usage of trucks, which also leads to less fuel consumption. All of these amount into a significant reduction of carbon footprint and enables the company to be recognized for its desire to save the planet.
The Bottom Line
Thanks to the heightened interest of consumers in sustainability and environmental protection, companies can now leverage order consolidation to not just appeal to their customers' needs, but also to reduce costs associated with packaging and transportation. The retail industry should find quick ways to implement these set of measures and procedures in order to boost fulfillment, reduce wastage, and work within a standard-based framework that benefits everyone.
If you want to learn more about the best practices in order consolidation, do not hesitate to contact us.
Since 1995, our team at Global Trim has mastered the art of creating unique trim pieces for clients all over the world. Not only do we provide global garment manufacturers with exceptional trim products, we back our products with service that is second to none in the industry. Companies all over the world trust Global Trim.