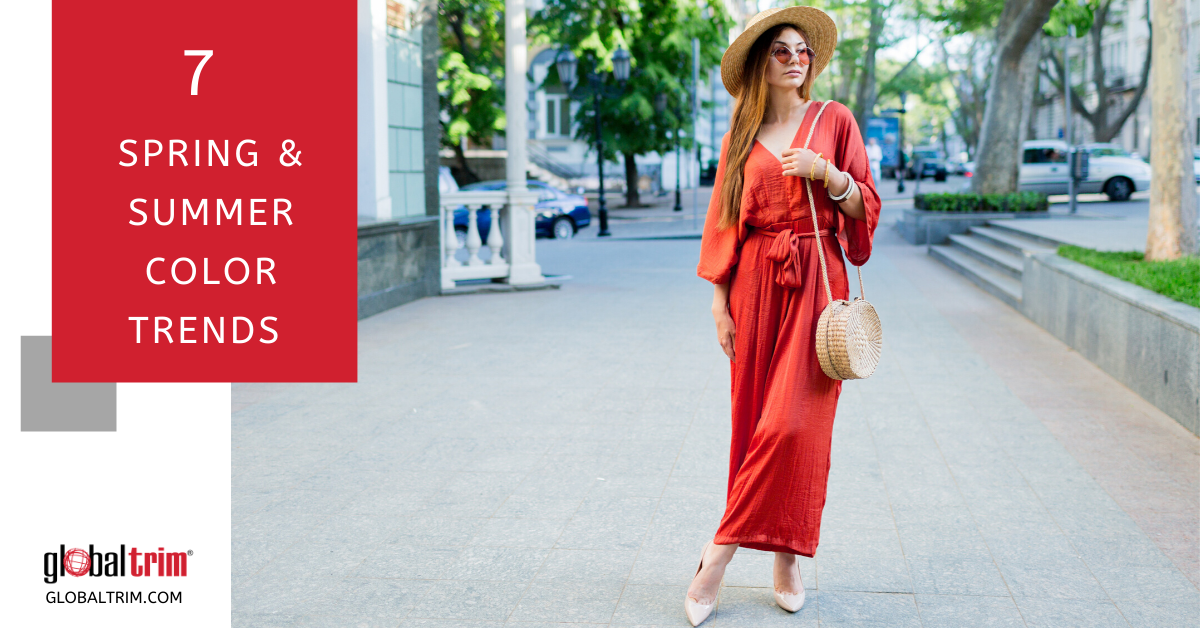 07 Jan

Stay Cool This Spring and Summer: (Red Hot) Hues for 2020

While we may still be loving  boot and sweater weather, it won't be long until the snow and cold is a distant memory. That's when our thoughts will turn to spring summer 2020 fashion trends and which pieces we simply must have in our closets for the warmer weather of the upcoming seasons.

The Pantone Color Institute has weighed in on the colors for Spring/Summer 2020, which they call "relatable and friendly." This is what else they have to say:

"Combining our desire for stability, creativity, and more spontaneous design approaches, the color palette for Spring/Summer 2020 infuses heritage and tradition with a colorful youthful update that creates strong multi-colored combinations as well as energizing and optimistic pairings," said Leatrice Eiseman, Executive Director of the Pantone Color Institute.

This means you can look forward to rocking a new spring/summer wardrobe filled with everything from classic blues to fiery reds and vivid saffron.

Below, we'll show you the most important colors and fashion trends for the upcoming spring.
2020 Fashion Trends: What Colors To Wear?
1. Flame Scarlet
When it comes to fashion trends and fashion colors, 2020 is the year of scarlet red. This bold, energetic, warm, and fiery red hue of flame scarlet can dramatically boost your confidence and help you make a clear statement. All-red dresses will be big this upcoming spring and will continue to remain fashionable throughout the hot summer months. Another way to work this red-hot trend into your outfit is to pair a sassy scarlet shirt with classic white pants and red heels.
2. Biscay Green
If 2019 was the year of lime green and pistachio hues, 2020 is the season for Biscay green hues. This cool, refreshing shade of aqua green allows you to stay fashionable and inspire trust and joy. Wear it together with pink scarfs, heels, and accessories to create your own fashion statement.
3. Faded Denim
If you prefer tried-and-true fashion, you can't go wrong with timeless faded denim. You can wear this subdued blue shade in your skirts, jeans, shirts, and even shoes. This hue conveys ease and comfort, so you can wear it at the office, mall, or anywhere else, really. However, note that you won't necessarily stand out of the crowd wearing faded denim, but you'll blend in perfectly and become a natural presence in any group of people.
4. Saffron
Saffron has a unique orange tint that makes it uniquely different from other sunny yellow hues. Dresses and shirts of saffron are amazing for any season, but they are perfect for the spring season when nature is reborn. This vivid shade adds a powerful touch to any outfit you're wearing. You can wear bold saffron at the mall, in the city, or at the restaurant, but you may wish to reconsider wearing it to the office or in a corporate environment.
5. Coral Pink
Coral pink was made to be worn in the spring and summer season. Out of all 2020 fashion trends, coral pink clothes are some of the most delicate. Wearing a coral pink blouse or skirt is a feminine, chic choice in any setting. You can wear coral pink hues at any time and in any place, even for a casual stroll in the park. And for a colorful change of pace from basic black for evening wear, consider coral pink pieces in silk, tulle, or sequins for an unforgettable evening out with your best friends or date.
6. White
A dose of white is always welcomed, especially during the sunny spring months. White helps us get into the beautiful warm-weather mood, while also enabling us to stay fashionable in a wide range of designs and patterns. White dresses, skirts, and shirts vary in texture and shades, so you can choose anything from bright white dresses to subtle oyster lace skirt. White sandals or heels are mandatory when choosing a white hue for your clothes.
7. Chive
Chive is coming in strong this spring. And even though it's the second shade of green on the list, chive is the only darker fashion color this upcoming spring. It is also the richest and most herbaceous. Usually, chive works best with luxury leather items, such as leather tops, skirts or dresses. Because of that, chive is best worn for high-fashion day outings or to brunch with your besties.
Global Trim works with clients around the world who create high-quality, exceptional garments. With offices in the US, Hong Kong, Vietnam, and Central America (coming soon), Global Trim is primed and ready to partner with leading garment manufacturers to fulfill customer and contractor requests 24 hours a day across the globe. Contact our team to learn how to get started.