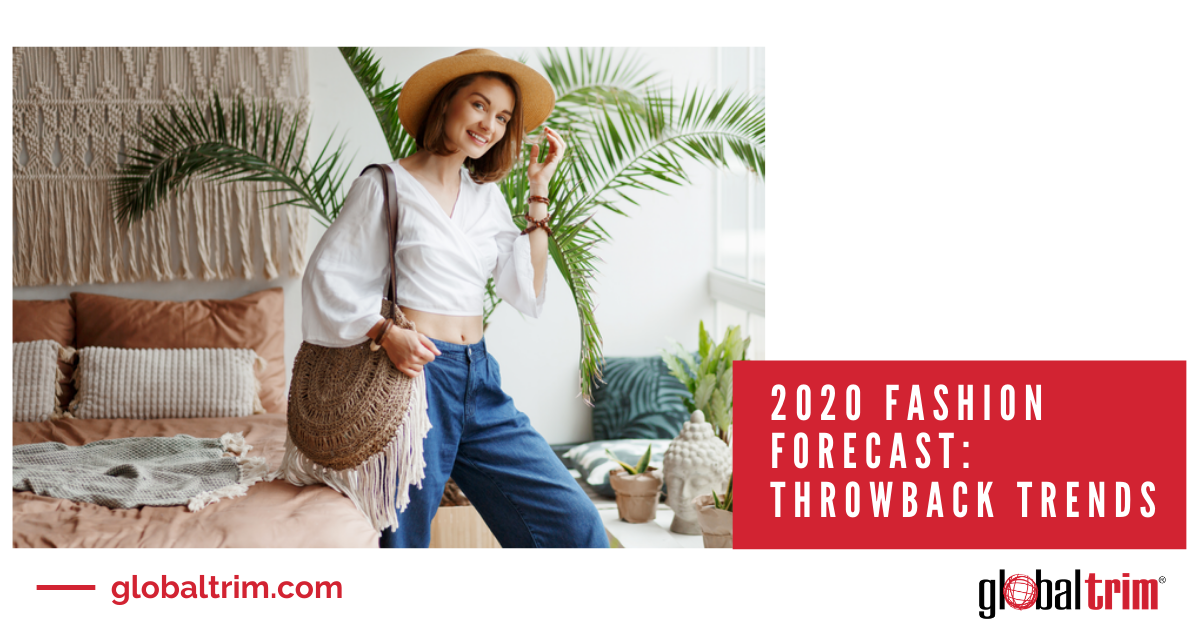 16 Feb

2020 Fashion Forecast: Throwback Trends

Once in a while, when we look at the top fashion trends for the upcoming year or check out the most eye-catching celebrity outfits, we can't help but be astounded by the huge amount of throwback. One might say that 2020 is the year for a specific decade to make its comeback, but the beauty of 2020 is the draw we're seeing from multiple decades. This gives us the power to mix and match previous decades to create something entirely unique. 

While florals and other wardrobe staples usually dominate the yearly trends, most of the outfits present in 2020 are showing throwback elements from various decades. This year, most of the fashion trends that have gone mainstream come from the late sixties, early seventies, and eighties. It would seem as though people are ready once more to wear crocheted tops, extra-large collars, polka-dot pieces, or carry glamorous retro bags with them at the mall.

At a glance, it becomes clear that the main goal for this year is to have tons of fun and experiment with a lot of colors, fabrics, and patterns. Let's take a closer look at this extended 2020 fashion forecast. We'll look at the reemerging fashion trends based on their corresponding decade.
The Sixties
Florals, Florals, and More Florals
Of course, femininity is all about flowers, beauty, and nature. However, the 2020 trends are getting a new makeover with brighter, more vibrant colors that appear abstract. As a result, the outfits will enjoy a groovy twist that will definitely make you stand out.
Crochet Stitching
Crocheted designs were notorious in the sixties. Whether you choose to go with a dress or a top, you can incorporate your favorite colors into your outfit and showcase your true personality. You can also show a little less skin by adding your macrame outfit over a t-shirt.
Straw Bags
Although certainly not built for formal occasions, rest assured, these iconic pieces aren't solely for the beach. Thanks to their lightweight material, these bags are perfect for carrying your items during hot summer months. You can pair them with your favorite sunglasses and sandals and hit the mall or explore another town.
The Seventies
Retro Bags
Things just got real. The seventies were all about channeling your Jagger-worthy silhouette and combining groovy denim with retro bags. Suede, geometric cutouts, woven or striped–these statement bags have found themselves in the forefront of fashion yet again! 
Skinny Shirts
You've watched your mom wear them in the seventies and you've seen a lot of photos of both men and women wearing skinny shirts. These fitted shirts are quite good-looking when tucked into your pants or shirt. You can add your own touch by wearing your favorite necklace around your neck and turn these shirts into a fashion statement.
Groovy Denim
Flares are definitely back in 2020, with knee-length denim skirts and long denim pants that go together perfectly with knee-high boots.
The Eighties
Hot Pants
Short pants have somehow managed to take the place of booty-baring cutoffs. You can now trade your favorite bike shorts for a pair of hot pants from the eighties, or you can embrace the mini skirt. Of course, you can pair them with an oversized coat for maximum appeal.
Polka Dots
Even though they are whimsical, polka dots prints can perfectly match solid-colored fashion items to stand out from the crowd.
Loose and Oversized Suits
In 2020, you can forget about structured and stiff suits. A great corporate trend is skipping the tailored suit and corporate button-down in favor of a loose jacket with more casual apparel underneath. You can add some sneakers or a t-shirt in the mix for corporate meetings, or simply don a bra and high heels for a vibrant, fashion-forward look at a party.
Contact Global Trim for help adding quality detail to your most daring new outfits!