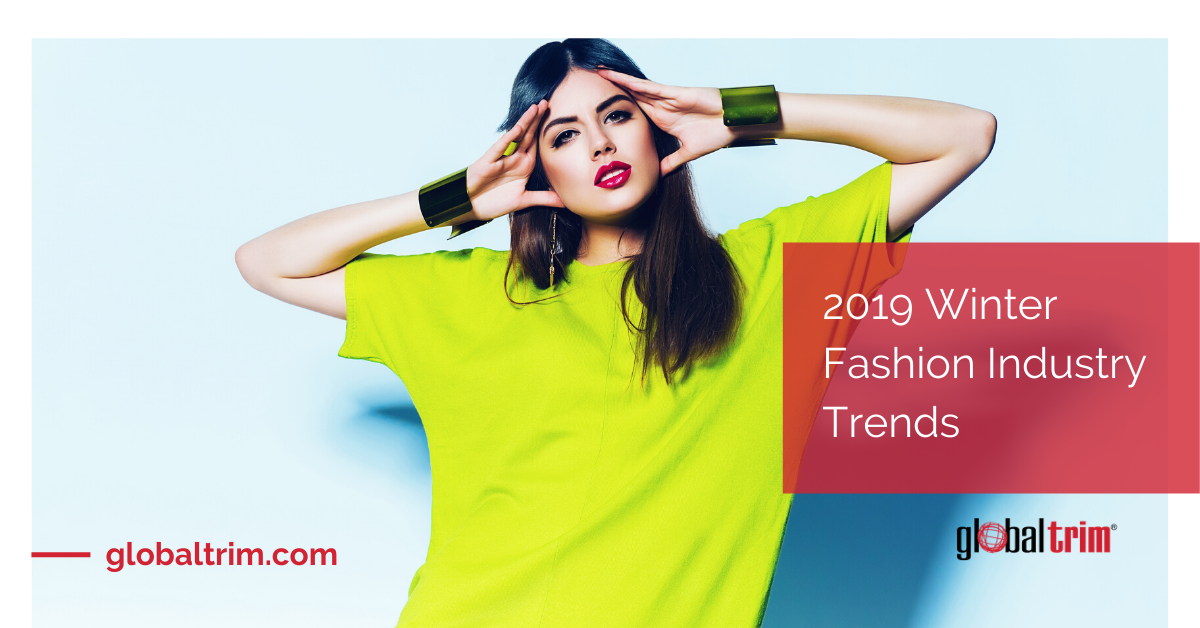 29 Oct

2019 Winter Fashion Industry Trends

As the nights get longer and the days get shorter, we are aware that winter is not only coming, but that summer has ended. While this could be a reason to be sad, worry not! Fresh new fashion industry trends are here for the winter of 2019 and they are sure to make you smile.

These are some of the things to look out for this winter season, picked by top stylists from top brands. This is a list to make sure you look your best this winter.

Sandals

Sandals might not sound like winter footwear. However, strappy sandals, as if nothing was there, will be very much in fashion during the colder months. Combined with a picnic basket style bag and you are looking the part!

Neon

Bright colors are a great way to combat the dull and darkness of the winter months. Lime green and other neon colors will be predominant this season, so make sure to find the brightest and best outfit and wear it with pride.

Wide-leg Jeans & Statement Trousers

Jeans are a staple of fashion year in and year out. They are easy to dress up or dress down, either for a night out or casual meet with the girls. Jeans are the perfect companion. So, look out for wide-legged jeans this winter and make sure to have at least one pair in your wardrobe.

Statement trousers are trousers that standout. They go well with oversized hoodies and are a perfect way to show off your own personal style while still being in trend for the 2019 winter season.

Tie Dye

Tie dye looks amazing both for a night out or for a dressed down occasion. If you make your own, that is even better! Uniqueness and personality are part of the appeal of this hot winter trend.

Utility

Throughout the summer, utility has been the word, and this trend is more than likely to continue into the winter, according to the experts. Probably because it is practical and comfortable without sacrificing on style. Which go-to utility pieces are the ones to look for this winter?  How about a play-suit with all the necessary pockets, or a maxi dress that is comfortable, has pockets you can actually fit your phone in, and looks amazing.

Puffer Jackets

Remember those big oversized coats of the late 90's early 00's? Well they are back! Combine them with a good chunky pair of black boots and you are catwalk ready, even if you are only walking down your local street.

Tweed

You can never go wrong with a good tweed suit or blazer. Having one in your wardrobe is going to be essential this winter. Find a vintage look with an oversized blazer and you can rock it all season long. Tweed is always a top fashion for the colder months.

Romantic Blouses

These are not romantic because they are full of hearts, but for their style. Based on the Romantic era in history, these blouses are incredibly versatile, with puffy sleeves, pin tucks, and shoulders being the look of the era. Combine them with jeans or a skirt, wear them out during the day, or to an impressive dinner date.

Slip Dresses

One of the most versatile pieces of clothing for this season are slip dresses. They can be worn with almost any kind of footwear and still look amazing.

Prairie Dresses

Vintage is here and it is here to stay. Lace trims, pin tucks, puff sleeves, and ruffles are going to be the look of the winter. If it looks like you picked it up in the back of a funky little vintage shop somewhere, that is exactly how it should be. Find your vintage look and wear it proudly this season.

Summary

What is clear is that for this winter season, vintage is the look you are going for, with romantic blouses and prairie dresses. Or you can choose to go retro, and bring back 90's looks with puffer jackets and tie dye shirts. No matter what your personal style is, there is something for you to stay in trend this winter.

About Global Trim

Global Trim has mastered the art of creating unique trim pieces for clients all over the world. Not only do we provide global garment manufacturers with exceptional trim products that keep them on the cutting edge of the latest fashion trends, but we back our products with service that is unparalleled in this industry.

If you want to learn more about Global Trim, and how we work hard to make beautiful garments extraordinary with exceptional trim pieces, contact our team.