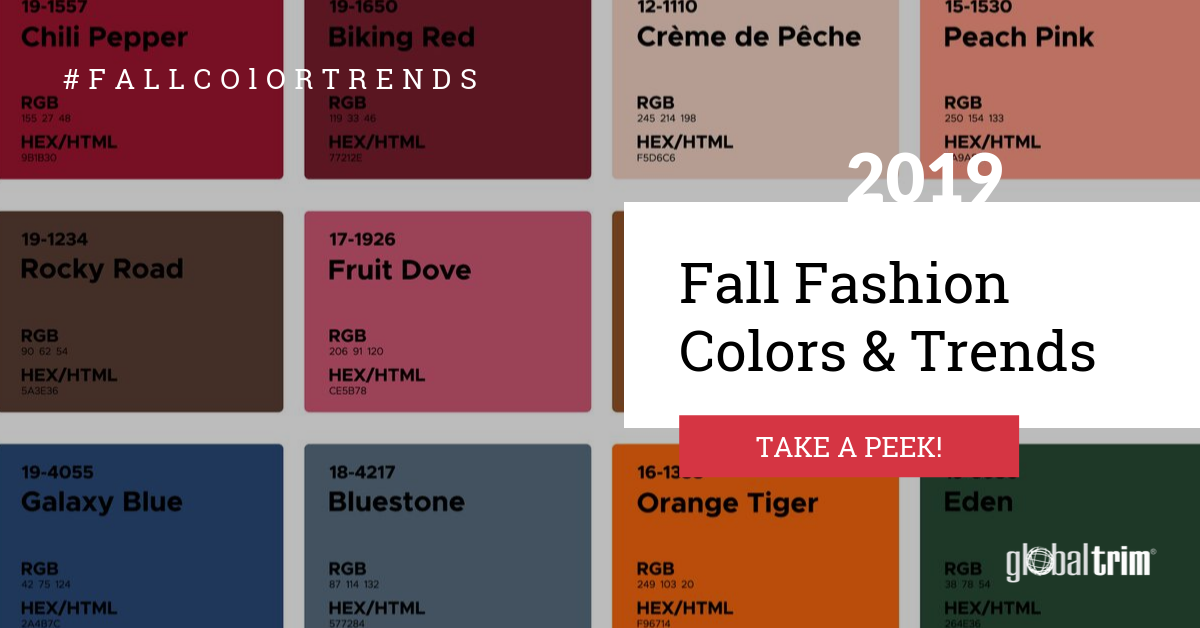 26 Sep

Top Fall Fashion Colors and Trends in 2019

The fall fashion trends 2019 revolve around visceral hues coupled with seasonal shades. According to a report presented by Pantone, the fashion trends in 2019 include powerful colors such as crème de peche, biking red, chili pepper, fruit dove, orange tiger, and galaxy blue–a reflection of boldness and an emergence of confidence.

The fashion trends will also revolve around liberation and uniqueness. Since each of us wants to be and feel unique, the palette of colors used includes versatile hues that can be combined to create a distinct sense of confidence and empowerment. The wearer can choose just the right colors to reflect their mood or persona and showcase their intricate personality.
Experts are Talking
On Marieclaire.com, a famous fashion website, industry experts have put together a list of 35 fashion trends for the fall of 2019. This list includes items like capes, asymmetrical necklines, moody florals, maxi dresses, leather items and of course sharp-looking suits for corporate women and men.
However, in the fall 2019, there are certain fashion trends that will outpace all others. Fall 2019 is a season of contrasts, where some designers are paying homage to the lavishness of the bourgeoisie, while others are maximizing the creativity of the free punk spirit. Of course, a few designers are willing to combine the two and create totally unique fashion pieces.
Let's take a closer look at the most common fall fashion trends 2019.
Top Fall Fashion Trends 2019
1. Shearling Coats
The end of the fall will come with a brand new trend in the form of shearling coats. The sheepskin has morphed into shearling coats, that offer a more sporty and urban appeal than the old sheepskin.
2. Checkered Patterns
Another trend revolves around brown and gray colors, with assortments of black, white and checkers. This trend comes with the colors presented by Pantone, including nuances like rocky road, sugar almond, vanilla custard or Paloma.
3. Capes
Obviously, we're not talking about caped crusaders or superheroes. The capes are for women and men who want to stay chic and modern, while also maintaining a classical allure. The capes make a strong return in fall 2019 and enable people to stay fashionable and protected from rain and cold weather.
4. Punk
The punk style is an extremely hot trend in 2019. This silhouette states loud and clear that the person wearing it has a young, restless, and rebel spirit. The androgynous designs combine with grunge for a detached, yet still approachable, super cool style.
5. Bourgeois
Coming at the opposite style of punk, bourgeois is the late 1970s refined style that features sharply pleated trousers, long skirts and even longer trench coats. These updated, classic pieces create coherent and stylish looks and allow wearers to have a unique air of elegance that was so common four decades ago.
6. Eighties Glitter
This style revolves around the awesomely glittery style of the 80s. The shoulder pads are mandatory, while the night club style and palace fashion re-emerges.
7. Shoulders Pads
Similar to the eighties glitter, but with less glitter and more professionalism, the shoulder pads are a unique style that works perfectly for both young and older men and women. This signature trend of the 80s offers infinite potential, enabling the wearer to make their shoulders the focal point of their entire creativity.
8. Neon
You can't not love the neon fall trend. In 2019, this trend from the 80s lit up the runways of the fashion week in New York, offering bold lime green colors and gorgeous tints of guacamole and lime green.
9. Pop Feathers
This style was specially created to remind us of the glory of Hollywood way back in the 40s and 50s. Bright feathers are combined with neon feathers and large trousers to offer a long-lasting sensation. Not to mention the feathers can keep you warm during the late fall.
10. Preppy
Last but not least, the preppy style is present once again in the top 10 fall fashion trends 2019. The sailing shoes are combined with ties, moccasins, tweed, skirts, cargo pants and elegant clothes to enable preppy trend fans to enjoy their favorite clothes at the mall, at the movie or when hanging out with their friends at local restaurants.
Global Trim is dedicated to working with clients across the globe to create high-quality garments that support their branding and reflect the latest fashion trends.  Contact a Global Trim representative to answer your questions regarding our global presence and capabilities.